In October, I purchased a new car – a shiny, silver, Astra diesel. So much more fuel efficient than my trusty old blue barina, and having five doors is just so much more practical. Needless to say, I love it very much. And with the advent of a car much more practical for long trips, it was decided that we would break it in by taking her to Melbourne, driving along the Great Ocean Road along the way!
Will and I set off from Adelaide bright and early on Tuesday morning, stopped to grab a coffee for our long journey ahead, turned on the cruise control and tractored away. After nearly hitting a few emus as they dashed across the road, we stopped for a pre-packaged lunch in Kingston – Will made some very tasty sandwiches, and we sipped on some fruit cordials gifted to us by my mother, which were incredibly tasty. Naturally posed for a photo with Larry the Lobster, before hitting the road again. We made it into Warrnambool at around 5pm, checked into our accommodation at the caravan park, and got some pizza from Pinkys Pizza – definitely recommend!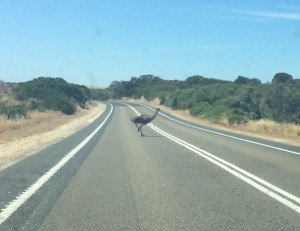 One of the emus we nearly hit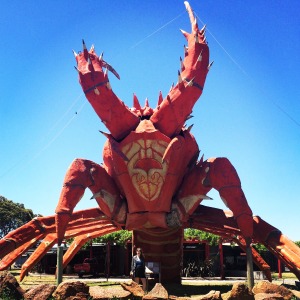 Me with Larry the Lobster in Kingston
After a delicious breakfast of eggs benedict on Wednesday morning (aren't I spoilt!), we set off for our drive along the Great Ocean Road, which starts just outside of Warrnambool. We stopped at a few places along the way, my favourite of which being Port Campbell National Park. There were so many different tracks to walk down, all of which provided some amazing views. We spent quite a while here just wandering around.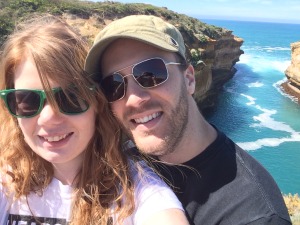 Will and I at Port Campbell National Park
Alas, we needed to keep driving. We didn't stop again until we got to the Twelve Apostles. Well, that's not entirely true – we actually missed the carpark for it, and drove until the next one, figuring we could walk back. And while we were correct, we didn't realise just how long this walk would be. After about 20 minutes walking, seemingly further and further away from our destination, we decided to head back to the car and then drive back to the proper Twelve Apostles carpark. There were quite a few people there, as it was a gorgeous day. It was still great to see and walk around all of the tracks there, too.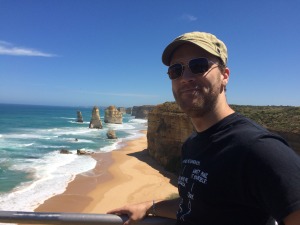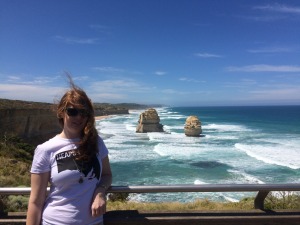 Will and I at the Twelve Apostles
It was getting late in the day, so we continued our journey to Melbourne. Just outside of Melbourne, Will pointed out that I was sunburnt – of course! We were staying in a self contained apartment in South Yarra, which as we discovered, is potentially the most hipster place in the world. It was so hipster they literally had a shop called 'Hipster'. This was okay with us though, as we figured it meant we were probably going to be able to find good coffee nearby!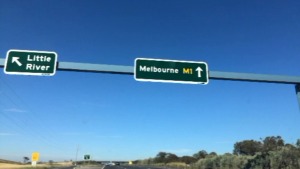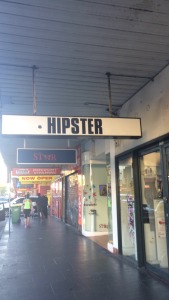 A hipster shop called Hipster
Thursday morning we slept in for a bit, before driving across the bridge to Scienceworks, which we were both looking forward to checking out due to our nerdy natures. Scienceworks itself was pretty cool, lots of hands-on exhibits, including a giant Lego one! While we were there, we also decided to check out the planetarium. They did a pretty good show, and we were very lucky, as just that morning NASA had landed a probe on the comet Philae, so we got to see some stuff related to that from people who know all about it! Definitely worth doing if you're in Melbourne. We headed home for a brief nap and to cool from in the hot weather, before heading out to do some rock climbing with a friend, Joh. Joh took us to a place called Clip n Climb, which had a lot of really cool rock climbing walls, as well as a leap of faith and a giant slide. Naturally, Will and I decided to do both the leap of faith and the giant slide! After we'd all exhausted ourselves, we decided to grab something to eat, before going for a wander to try and catch the Crown Casino's fire display at 9pm.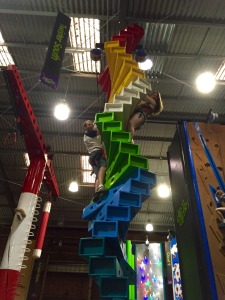 On Friday, we had a bit of a lazy morning before catching up with my friend Retno, who I know through Robogals. Retno took us to a lovely little cafe where I had some delicious pancakes and Retno had a burger. We stayed and chatted there for a while, before deciding to work off those calories by walking all the way to the Eureka Tower. The Eureka Tower is the tallest building in the Southern Hemisphere, and gave us absolutely incredible views of Melbourne. After, we headed home to get changed to go out for dinner, and then walked along the banks of the Yarra, before stopping to get a charcoal portrait of us drawn by a lady whose work was just incredible.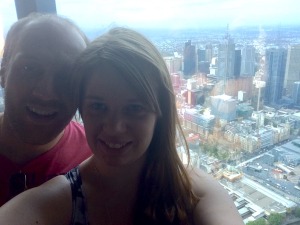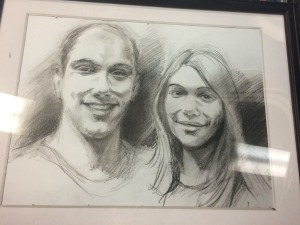 Saturday came around a lot faster than we expected, and it was time to start heading home. We took a bit of a detour and saw part of the Grampians along the way. Before we knew it, we were crossing the South Australian border and not much later, we were home!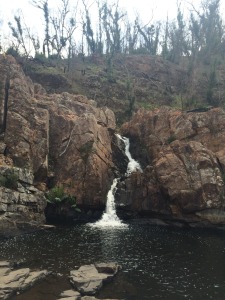 A little waterfall in Zumsteins in the Grampians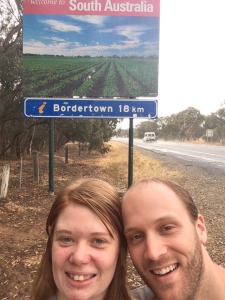 Home sweet home!