In July this year, I participated in Unleashed (or as it's known in other states, Govhack) with my friend Nick. Unleashed is an open data competition where competitors are encouraged to mash up different data sets to create something valuable and useful. Nick came up with our great idea called The Coworking Society. The Coworking Society aims to connect independent workers through Adelaide City Council's free wifi network by providing them with a place to meet and network.
Unleashed Adelaide took place over a weekend and was very much a hackathon of sorts. We had a lot of fun, and met a lot of awesome people who are also passionate about open data and making awesome things.
Last weekend the awards ceremony was held, and Team WarTapir was successful in being highly commended nationally, as well as winning two awards – the Majoran Co-working Mega Prize and the Best Entrepreneurial Concept by a Youth Team. The Majoran Mega Prize means that we get to be a part of the Mega program run by Majoran Distillery where we get to further develop our idea and business model! This started on Thursday last week and is very exciting, so expect further updates on this!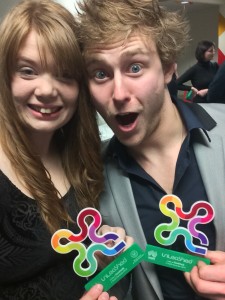 Team WarTapir cleaned up!